26 Jul 2008 1 Comment
The Last Lecture presented by Carnegie Mellon University's Computer Science Professor Randy Pausch has moved and inspired millions. His speech on achieving childhood dreams has truly touched people's lives. His ability to deliver such a compelling speech given his circumstances is a wake up call for those of us who have not appreciated our own. The professor said "I'm dying and I'm having fun. And I'm going to keep having fun every day I have left. Because there's no other way to play it." I simply cannot think of a more light-hearted and simple philosophy. "You just have to decide if you're going to be a Tigger or an Eeyore."
Pancreatic cancer is the leading cause of cancer deaths because early signs and symptoms are not easily recognized. Most signs don't appear until the cancer has spread and is no longer surgically removable. Despite his grim diagnosis of terminal pancreatic cancer, Randy Pausch is joyfully living life. He was diagnosed in September of 2006 and when he delivered his lecture one year later he looked happy and seemed healthy—he demonstrated this during his lecture by doing push-ups, the hand-clapping kind.
His speech was full of energy, honesty, humility, compassion, hope and zest. He seemed so satisfied with life— who wouldn't be with the amount of success and accomplishments he has and all the amazing and influential people he knows? Everybody has taken a different life lesson from his lecture.
One of my favorite parts of Randy's lecture is his reminder to Help Others. It's essentially an ancient golden rule, but it's amazing how refreshing it is to hear someone actually say it. I'm constantly reminded of the value of helping others at firstgiving.com and it's great because it seems to always come full circle. Just as his family, mentors and professors helped him reach his childhood dreams, he in return has helped thousands of students achieve their childhood dreams. And long after he is gone, his legacy will continue helping students reach their goals.
People helping people; that's what firstgiving is all about. So we were pumped to see that one of Randy Pausch's friends set up a firstgiving.com page to help raise funds for research on pancreatic cancer. In 2006, an estimated $66.7 million dollars of the National Cancer Institute's (NCI) cancer research investment was spent on pancreatic cancer research. This is just 1% of the NCI's $4.8 billion dollar cancer research budget for 2006 (PanCan). It has the worst survival rate yet it is the most underfunded of all major cancers. Funding has a lot to do with its progress and the lack of funding for pancreatic cancer has caused there to be little progress. Since the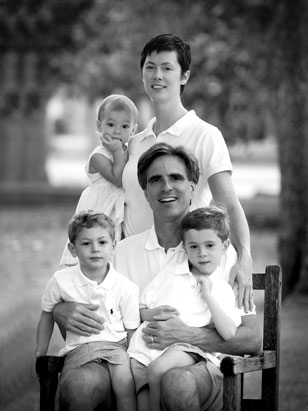 survival rate is so short; 75% die within 12 months and 5% survive for 5 years, it's imperative that we raise more funds for research. That is what Randy Pausch is doing, raising awareness which will ultimately raise more funds.
The sweetest part of Randy's lecture was his conclusion (the headfake). His last lecture was not only or even primarily for his students or anybody else but for his three children. It just happened to be that his reflections enlightened everyone who saw it. He extracted a life lesson from all his experiences and compiled them into one speech to offer to his children.